estro

PLAN®

(cloprostenol sodium)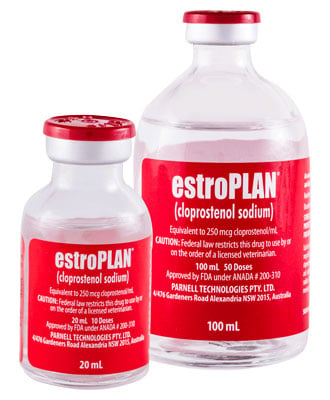 FDA-approved in 2004 (ANADA 200-310) to induce luteolysis in cycling dairy cows and beef cows.
Product Details:
250 mcg of cloprostenol per mL
2 mL dose
20 mL glass vial: 10 doses
100 mL glass vial: 50 doses
U.K. sourced active ingredient
PRECAUTIONS: FOR ANIMAL USE ONLY, NOT FOR HUMAN USE. KEEP OUT OF REACH OF CHILDREN. Women of child-bearing age, asthmatics, and persons with bronchial and other respiratory problems should exercise extreme caution when handling this product. In the early stages women may be unaware of their pregnancies. estroPLAN® is readily absorbed through the skin and may cause abortion and/or bronchospasms: direct contact with the skin should therefore be avoided. Accidental spillage on the skin should be washed off immediately with soap and water.