GLYDE JOINT SUPPLEMENTS FOR DOGS
Visit our U.S. Store or Australia Store to buy Glyde joint supplements.
If your dog is at risk for arthritis, also known as osteoarthritis, there is a revolutionary joint supplement available for them called Glyde. Glyde's formulation contains natural ingredients that promote joint health and normal cartilage development.
Clinically-Proven Ingredients
Glyde is the only nutraceutical that contains proven levels of three key ingredients that work to relieve the painful signs of arthritis.
New Zealand Green Lipped Mussel (GLM) – a powerful anti-inflammatory that reduces joint pain and swelling
Glucosamine – reduces cartilage degradation and improves joint function
Chondroitin – helps rebuild cartilage
This product contains shellfish
"As a veterinarian, I recommend Glyde chews to my clients for their effectiveness, convenience, and appealing flavor. They are a market leader." – Dr. Kellie T.
Glyde Product Line
Glyde is available for purchase in the United States and Australia through our online store or your local veterinary clinic. Parnell will give a portion of the proceeds for all purchases made through the online store back to your veterinary clinic to support their efforts.
Glyde™ Mobility Chews for Dogs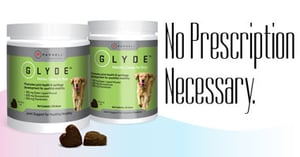 Available in the U.S.
Glyde® Mobility Chews or Powder for Dogs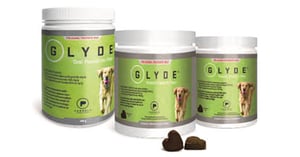 Available in Australia
Glyde Mobility Chews for Dogs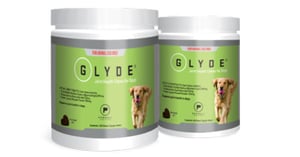 Available in New Zealand
Why Choose Glyde?